Eye Disease Diagnosis & Management
Eye Disease Diagnosis & Management
Maintain Healthy, Clear Vision
Your vision is an important element of your health, but sometimes you may not notice small changes in your eyes. Many eye diseases can arise without obvious symptoms, so we look for signs beyond the surface to help you maintain clear, comfortable vision.
Our dedicated eye doctors have the experience and knowledge to care for your eyes and help you manage eye diseases effectively.
Eye Exams for Early Detection
Some eye diseases are a natural part of the aging process, such as cataracts or dry eye, while conditions related to eye misalignment, like strabismus, may begin in childhood.
No matter your age, comprehensive eye exams can provide vital information to help preserve your vision and protect against vision-threatening conditions throughout your life. Early detection and treatment are your best defences against eye diseases. You can be proactive about your visual health by scheduling an eye exam today.
Book an Appointment
Examining Inside the Eye with OCT
Retinal imaging allows us to examine tissue beneath the surface of the eye, helping us detect early signs of eye disease.
Optical coherence tomography (OCT) features ultra-wide retinal imaging, producing a 3D, cross-sectional view. The scan captures 82% or 200 degrees of the back of the eye, providing comprehensive, in-depth information to help us monitor changes to your eye health.
Seeing details beneath the surface of the eye also allows us to improve the accuracy of our care when managing or treating eye diseases.

Common Eye Diseases
When it comes to caring for your eyes, understanding the causes and risk factors for certain diseases can help you take action in preventing and managing eye disease. Your overall health, underlying conditions, and family history are all possible indications of your level of risk for eye diseases and conditions.
---
Laser Eye Surgery Consultation
Laser Eye Surgery Consultation
Convenient Vision Correction
If you've ever worn glasses or contact lenses, you've probably thought about what life might be like if you didn't have to. Imagine the ease of waking up in the morning and not having to wear glasses just to see your alarm clock.
We can help you navigate the different types of laser eye surgery available and determine whether you are a good candidate for the procedure. After a comprehensive eye exam, we will help you understand your options and which style of laser vision correction might best suit your situation.
Start your laser eye surgery journey by booking a consultation today!
Book an Appointment
What Is Laser Eye Surgery?
Laser eye surgery is a group of procedures—all just a little bit different—that use a laser to correct refractive errors in your vision.
Technological advances have made several types of laser vision correction possible, but the 2 most common types remain LASIK and PRK.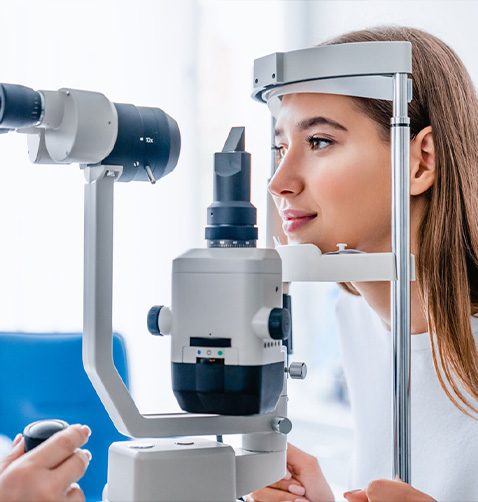 What Happens in a Laser Eye Surgery Consultation?
Everyone considering laser eye surgery needs to have a comprehensive eye exam and consultation. We'll take a detailed look at your eyes and discuss your health history and lifestyle needs.
We'll also be sure to discuss your expectations for the surgery. Many people achieve 20/20 vision after their procedure, but some need glasses or contact lenses post-surgery. But, surgery almost always decreases reliance on corrective lenses.
Who Can Benefit from Laser Eye Surgery?
To be considered a candidate for laser eye surgery, your eyes must be in good health. Infections, severe dry eye, or recent trauma may mean you'll need to delay the procedure.
Here are a few other considerations for surgery:
You must be 18 years of age or older.
Your refractive error must not be too great.
Your prescription must be stable.
To find out whether you're a candidate for laser vision correction, book an appointment today!
---
Digital Eye Strain
Screen-Based Eye Strain
What does your technology do for you? Today, we can order dinner, buy concert tickets, chat with friends, play games, and even work, all from any device with a screen. Smartphones, gaming consoles, computers, and tablets make our lives more convenient.
But, there are some drawbacks to increased screen time. It's almost impossible to get away from devices at school, work, or home, and as a result, many Canadians experience discomfort related to digital eye strain. Too much screen time can also affect how kids' eyes develop, linking to an increased risk of myopia (nearsightedness).
Digital eye strain, also known as computer vision syndrome, refers to a group of ocular issues stemming from too much time spent using digital devices.
If you're experiencing eye discomfort after staring at your screen, we can help. We'll assess your screen habits and provide some strategies to mitigate your discomfort.
Book an appointment to find relief from digital eye strain today.
Book an Appointment
Kids & Digital Eye Strain
Adults use screens frequently, but they're creeping into kids' lives too. Studies show that the risk of children developing visual issues increases after 2–4 hours of screen time.
The Canadian Association of Optometrists recommends that children avoid screen time 1 hour before bedtime and never bring a screen into their bedrooms. Breaks should be encouraged frequently when kids are using screens, particularly outdoor breaks, for whole-body physical activity.
Children should have regular, comprehensive eye exams to support the health of their vision, regardless of their screen time. Schedule an appointment to support your child's eye health today.
Symptoms of Digital Eye Strain
At Bayview Vision Care, we offer eye care for all ages and stages of life, from toddlers to seniors. We understand that your plate is full and your schedule is bustling. That's why we're committed to providing comprehensive, compassionate eye care that fits seamlessly into your busy life.
Our practice offers a comfortable environment where your concerns will be heard, and your treatment will be tailored to you.
Our focus is your family! Book your appointment today.
There are a few common symptoms associated with digital eye strain, including:
Dry eyes
Headaches
Eye strain
Blurry vision
Neck and shoulder pain
Often, symptoms will alleviate when you take a screen break. But, discomfort will return once you're in front of a digital device again. To find relief in the long term, you'll need to implement some mitigation strategies.
It's also important to visit your optometrist to help detect any other conditions that might affect your eye comfort.
Mitigation Strategies
Adjusting your work area, taking intentional screen breaks, and ensuring you have sufficient lighting while using your digital device are all strategies that can help reduce digital eye strain.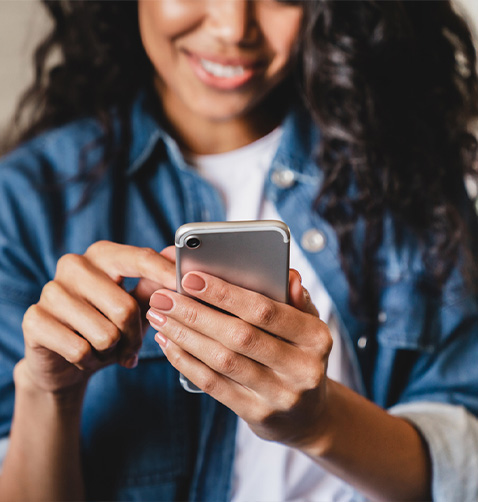 Office (or classroom) ergonomics and proper posture can help you stay comfortable while using digital devices. While you're at your desk, be sure to sit upright with your feet flat on the floor. Your shoulders should not be rounded or hunched, and your neck should align with your torso.
Keep devices at eye level and your keyboard and mouse near enough to prevent reaching.
Remind kids to keep their backs lined up with their chairs, or imagine keeping their backs straight as a tree.
If you're reading on your digital device, increase the font size to minimize squinting. Contrast and colour tones should also be set to maximize your comfort.
Talk to your child about what font size feels most comfortable for them and help them make appropriate contrast adjustments.
The light levels around you and on your device can help prevent digital eye strain. Turn down your screen's brightness to match the lighting levels of your surroundings. If the light from the room is reflected in your screen, the glare can also contribute to eye strain.
Anti-glare screens are available for your device's display, and glasses with an anti-reflective coating can help.
Remind your kids to turn on the lights in dark rooms to avoid tired eyes.
When you're concentrating on your work, it might be challenging to take a break, but following the 20-20-20 rule can help relax your eyes. Every 20 minutes, look at something 20 feet away for 20 seconds. This helps give your eyes refocus, reducing strain.
Set a reminder on your phone or set up parental controls on your kid's device for scheduled breaks and screen time limits.
---
Emergency Eye Care
Accidents Happen—Let Us Help
Eye injuries or trauma to the eye area can be stressful and frightening. Your eyesight is precious, and anything that might put it at risk needs to be dealt with immediately.
Whether it's a knock from a stray ball during the game time or a splash of cleaning supplies at home, knowing where to turn for emergency support is crucial for adults and kids alike.
When an accident occurs, call our office right away. We can assess your situation and recommend the next steps, whether that be coming to see an optometrist or going directly to an emergency room.
If our office is closed, you should proceed to your nearest hospital.
Book an Appointment
Types of Eye Emergencies
Common eye emergencies we can treat include:
Corneal abrasions (scratches)
Foreign objects stuck in the eye
Chemical splashes or burns
Infections like conjunctivitis (pink eye)
Flashes, floaters, or retinal detachment
Eye diseases
Symptoms That Might Mean an Eye Emergency
While most eye emergencies involve noticeable symptoms or trauma, other eye emergencies are not as obvious. Any sudden changes to your vision should be considered an eye care emergency.
Sudden onset of any of the following symptoms may also be indicative of an emergency:
Burning or stinging
Pupils that differ in size
Bulging eyes
Severe eye pain
Double vision
Redness or severe itching
Bruising or bleeding
Sudden headache
Discharge from the eye
Eyes not moving together
Call our offices immediately should you experience any of these issues.
Eye Emergency Do's & Don'ts
Eye emergencies can happen anywhere, whether you're at work, home, athletic events, or just hanging out. But you can make a difference by acting quickly and appropriately. Following first aid steps and contacting emergency care right away can lead to a positive outcome.
If you or a loved one experience an eye emergency, here are some do's and don'ts to guide you:
Do's
Do flush your eye with cold water in the event of chemical contact.
Do clean your hands before touching your eye.
Do lightly cover the eye without applying pressure.
Do seek immediate medical attention.


Don'ts
Don't use tools anywhere near the eye area.
Don't rub the eye or apply pressure of any kind.
Don't try to remove any large foreign objects.
Don't apply any medications, drops, or ointments.
Don't remove contact lenses (except in the case of a chemical splash).
---
Dry Eye Therapy
Irritating, Uncomfortable Eyes
We use our eyes all day long, but we rarely think of them unless they're uncomfortable—and then they're all we think about. Adults might turn to redness-relieving eye drops, while kids often rub their eyes. But neither strategy tackles the true cause of tired, scratchy eyes.
Dry eye is a chronic, common, and uncomfortable condition impacting around 6 million Canadians. Not only is it irritating, but it can really put a damper on your daily activities. Dry eyes can decrease your quality of life and lower productivity.
But relief is available! Book an appointment today for a comprehensive eye exam to diagnose your dry eye. If left untreated, dry eye can lead to long-term infections and eye damage down the road. Anytime your eyes are uncomfortable, it's best to pay us a visit and rule out more worrisome conditions.
Book an Appointment
Symptoms of Dry Eye
Dry eye symptoms generally occur in both eyes at the same time and can include:
Stinging or burning
Gritty or scratchy feeling
Foreign body sensation
Red or watery eyes
Blurry vision
Sensitivity to light
Eye fatigue
Stringy mucus in or around your eyes
Discomfort when wearing contacts
If you are experiencing any of these symptoms, book your appointment to explore dry eye treatment options today.
What Is Dry Eye?
Dry is exactly what it sounds like—it occurs when your eyes aren't producing enough lubrication to keep them moist and comfortable.
There are 2 main types of dry eye. The first—and least common—occurs when the eyes simply don't produce enough tears. The second occurs when the tears are of poor quality.
Reasons for decreased tear production are varied and might include:
Contact lens wear
Normal aging
Medications such as antihistamines or antidepressants
Medical conditions such as lupus, rheumatoid arthritis, or Sjögren's Syndrome
Recent laser vision correction surgery
Good-quality tears depend on a balanced and effective tear film. The tear film is made up of 3 layers—a mucus layer to spread the tears over the surface of the eye, a water layer to hydrate the eye, and an oil layer to keep the water from evaporating too quickly. If there's an imbalance in the tear film, dry eye can result.
The tiny glands along the top and bottom edges of the eyelids, called the meibomian glands, are responsible for producing the oil layer of your tear film. Blockages in these glands can cause a reduction in the amount of oil produced, leading to dry eyes.
When we diagnose your dry eye, we'll also look at the condition of your meibomian glands and recommend treatment options if they're not functioning properly.